Hours
Monday

8:00am - 5:30pm

Tuesday

8:00am - 5:30pm

Wednesday

8:00am - 5:30pm

Thursday

8:00am - 5:30pm

Friday

8:00am - 5:30pm

Saturday

8:00am - 4:00pm

Sunday

Closed
Options and Amenities for a Comfortable and Convenient Appointment
Do you have to get back to work in Hockessin, DE? Do you have errands to run in Pennsville? Or do you have to return home to your family in Kennett Square, PA? Whatever your daily routine entails, don't let unexpected maintenance derail your day. Set your service appointment online and speed up your process. Delaware Subaru is here to help you get on with your day and make your next service appointment stress-free. That's why we offer valet pick-up and drop-off services for your vehicle when it's getting serviced. Here's what we do and what Wilmington, DE drivers need to know:
Our valet drivers drop off a loaner vehicle to your home or office and bring your vehicle back to our Subaru dealership for service before returning it back to you.
Please allow a minimum of three to five business days between appointment scheduling and the valet service appointment to ensure valet availability.
Please contact us for qualifying services.
If you do choose to wait for your vehicle at our Subaru dealership, we provide our guests with superior service and the following amenities:
Free Wi-Fi
Complimentary bottled water, coffee, and hot tea
Available vending machines
Assortment of magazines
A Service Center That Values Your Safety
Delaware Subaru emphasizes extra precaution and cleanliness when following safety measures to ensure all our clients and associates stay healthy, safe, and comfortable at our Subaru dealership in Wilmington, DE. Below are some extra steps our staff is taking:
High-touch areas including bathrooms, door handles, light switches, coffee service are wiped down several times per day.
Delaware Subaru's service personnel, valet drivers, and technicians all wear face masks and use protective vehicle covering materials when they get into each client's car to move them.
Our staff follows social-distancing guidelines.
We encourage drivers to schedule their next service appointment online with Delaware Subaru. Don't forget to take advantage of our Subaru service specials, letting you enjoy quality service at an affordable price. We hope to greet our friends from Carneys Point with an elbow-bump soon!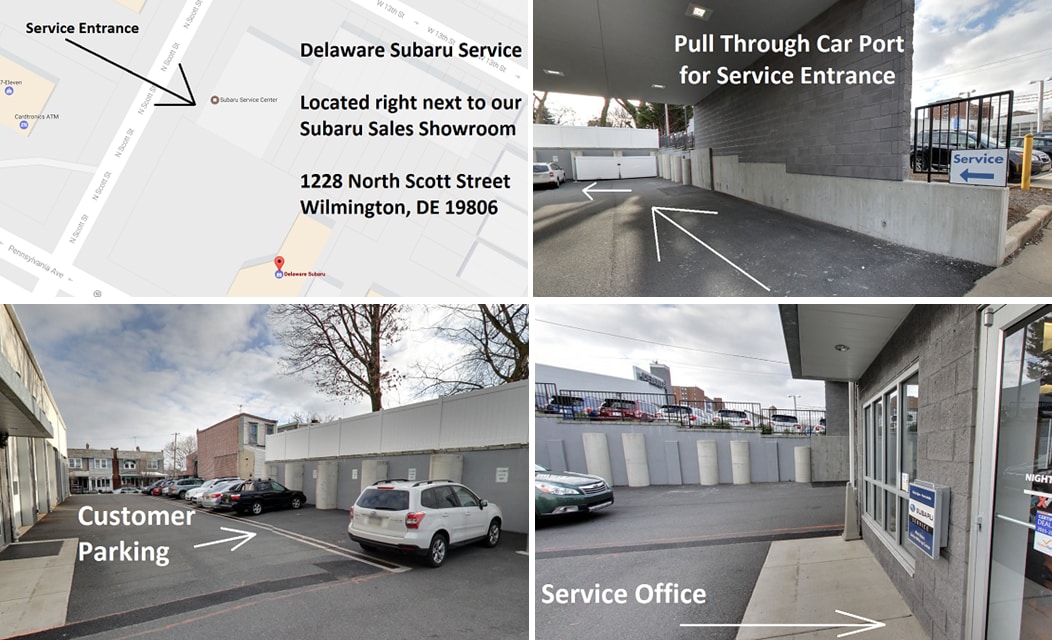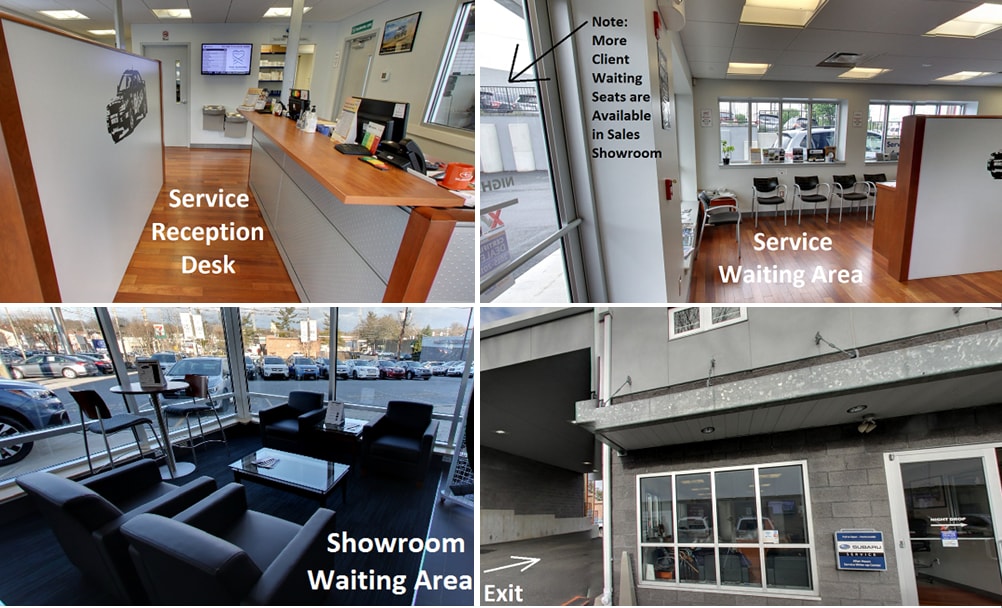 At Delaware Subaru we provide our guests with superior service and fantastic amenities as you wait! At Delaware Subaru we provide:
Free Wifi
Complimentary bottled water
Complimentary coffee and hot tea
Vending available
Assortment of magazines
Conveniently located right next door to our Subaru sales showroom, here are some quick tips to make your service visit smooth and easy!
What Happens After I Schedule an Appointment?
Please use our online form to schedule your next service appointment, or call . We are standing by to answer your questions and get you in the door as quickly as possible. Upon submitting your information we will:
Respond to you promptly via your preferred contact method.
Ask any additional questions required to service your vehicle.
Confirm your appointment.
Schedule Service at Delaware Subaru's Service Center Today
Scheduling service on your vehicle is simple at Delaware Subaru. Our Delaware Subaru service center offers services ranging from oil changes to maintenance work on brakes, tires and more. Our Subaru dealership in Wilmington, DE also offers valet services and loaner vehicles so your busy lifestyle doesn't skip a beat when your car requires service or maintenance.
Most importantly? Delaware Subaru offers easy options to schedule your appointment. We'd love to help you arrange your visit today.
Check Out Delaware Subaru Service Center's Provided Services
Delaware Subaru also provides several services to keep your vehicle running. From servicing oils and fluids to warning lights, brakes and other maintenance, our Subaru dealership's service center is eager to help.
Our handy maintenance schedule lookup tool keeps drivers up to date with all of their Subaru service needs in the proper intervals.
Delaware Subaru Service Specials Designed to Help Salem, NJ Customers Save
Hoping to save on your Subaru maintenance? Delaware Subaru has our customers covered with Subaru service specials and coupons available to use at your next service checkup. We routinely offer coupons for new oil, air, cabin, and fuel filters in addition to brake, tires, and oil change coupons.
Other discounts like 4-wheel alignment and a cold-weather special on wiper blades are also offered and vary monthly. Browse our current service specials and see the offer details so you can save money the next time your car requires service or maintenance.
Schedule Your Service Appointment in Wilmington, DE
Keeping your new Subaru in shipshape is a priority for both Delaware drivers and our Subaru dealership. When it comes to your Subaru model, we want you to enjoy driving it for a long time without worrying about unnecessary repairs. Scheduling routine service appointments goes a long way in ensuring that.
Fill out our online form to schedule your next service appointment. We'll be standing by to answer your questions and get you in the door during a time that works for you. Upon submitting your information, we will:
Promptly respond to you via your preferred contact method
Ask any additional questions required to service your vehicle
Confirm your appointment
Whatever maintenance or service your Subaru requires, Delaware Subaru wants you back out on the road. Schedule your next service appointment now! We can't wait to work on your vehicle.
Subaru Service for Any Vehicle
Getting your Subaru Outback, Forester, Legacy, Impreza, Ascent, or Crosstrek in for service can be challenging with how busy life can get. To meet our customers needs our service center is open all day on Saturday and offers same-week service appointments. Delaware is making it easier for Hockessin, DE, drivers to stay on top of their Subaru service with the ability to schedule their next appointment from anywhere at any time. Subaru scheduled maintenance also keeps Wilmington, DE drivers up to date with all of their Subaru service needs with the proper intervals for different services. Routine maintenance and service is the best way to keep your Subaru running at its best for many miles to come. Delaware Subaru also helps our customers save money with competitive pricing as well as monthly parts and service specials.
Same Day Auto Service, Next Day Auto Service and Free Loaner Vehicles at Delaware Subaru!
When your vehicle requires servicing or repairs, what's your biggest fear? Not
knowing when to service your vehicle
? Is it waiting around at a dealership all day? Not being able to get where you need to go? Showing up at the dealership only to be turned away because of an overbooked service department? If you own a Subaru vehicle and live in the greater Wilmington, DE area, you need not worry about any of these scenarios, because here at Delaware Subaru, we're committed to providing every single one of our customers with the most convenient and carefree auto servicing experience possible every time you bring your vehicle into our service center! 
If you're in need of regularly scheduled maintenance or even something a little more hands on, we offer same day auto service, allowing you to bring your vehicle in and we'll give it the attention it needs and have it back to you in like-new condition in no time! Or for something a little more intensive, you can easily and conveniently schedule a next day auto service appointment and drop your vehicle off and we'll have it back to you by next the day! When you choose next day auto service, we'll provide you with a free loaner car so you never have to skip a beat in your busy lifestyle and always make it where you need to go on time! Our team of expertly trained Subaru technicians will give your vehicle their undivided attention and get it back to you in like-new condition again in the most timely and convenient manner possible!
Regardless of what your vehicle is in need of, we want to encourage you to schedule your next servicing appointment and choose from same day servicing or to receive a free loaner vehicle when you choose next day servicing. We want to reinvent the way that auto servicing is handled and we want to welcome you to come experience for yourself what makes our Subaru service center so special today!
Also, if you're looking for a Subaru certified body shop, check out our dealership group's body shop at Delaware Cadillac dealership.